News
Recent articles, editorials and columns
---
Index
Newsletter
June 26, 2002
March 14, 2002
January 25, 2002
December 5, 2001
November 1, 2001
October 8, 2001
August 31, 2001
Articles
New look, lower cost for Iowa environmental project
Iowa Child Foundation Unveils Education Design Team
Testimonials
---
Articles
Index
New look, lower cost for Iowa environmental project
Iowa Child Foundation Unveils Education Design Team
---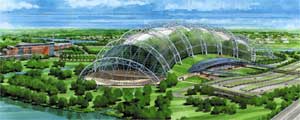 New look, lower cost for Iowa environmental project
September 10, 2001 – (Coralville, Iowa) A fresh design, much lower cost, new location and several other changes were announced today for a world class environmental attraction and learning facility to be constructed in Coralville.
Former Iowa Governor Robert Ray said the environmental project would be the largest of its kind in the world and called it "a new vision for Iowa's future." Ray added, "By focusing on our environment, creating an inspiring design, and outlining a clear educational philosophy, this project is now in a position to realize it's full potential to make Iowa a destination for the world." Governor Ray is chairman of the board of the Iowa Child Institute, a not-for-profit organization planning the project, which he said has been "dramatically re-worked to respond to community concerns and interests."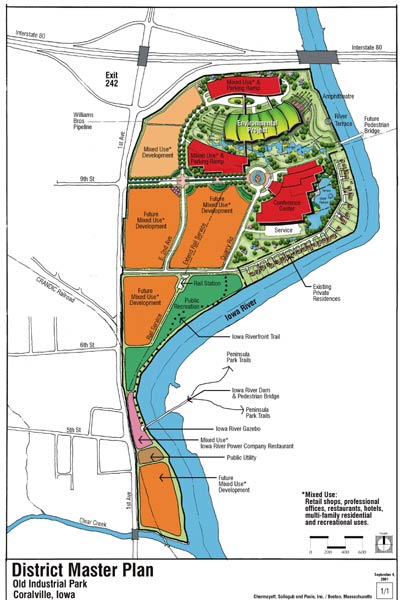 As they work to secure land currently recognized by the EPA as a Brownfield site, the city of Coralville and the Institute announced a new home for the facility on 5+ acres of land near the intersection of Interstate 80 and First Avenue in Coralville, along the banks of the Iowa River. Formerly planned to be located on a soybean field on the western edge of Coralville, the project will move closer to Iowa City and the University of Iowa. Governor Ray said placing the project on the site creates a magnet for future economic development in the current Brownfield area, and will enhance the area's quality of life in many ways.
David Oman, Vice Chairman and Chief Operating Officer of the Institute, noted that 55,000 vehicles pass the site daily on Interstate 80 and said, "It offers our project unsurpassed visibility and the opportunity to merge our plans more closely with those of the City of Coralville."
The blended, public-private proposal now calls for the environmental learning facility to be adjacent to the proposed 30,000 square foot Coralville Conference center and exhibit hall, a 200-room hotel, and a parking facility– all of which will be built with potential for expansion.
According to Jim Fausett, Mayor of Coralville, "The new site offers a prefect opportunity to merge two exciting and needed projects for our area. With this location we envision the combined projects creating a new business and tourism gateway for our community."
Along with the new site comes a fresh design for the environmental project. The 4.6-acre habitat, previously described as an African rain forest with a separate aquarium, now has a new image for its exterior and interior. The unique structure will house multiple eco-systems including an Amazon rain forest and wetlands, galleries on food production and geology, as well as an aquarium integrated with other eco-systems.
"At its heart this project is about learning, said Oman. "By using a number of natural environments, the project will develop a learning laboratory for visitors, students, teachers, and researchers. It will not be like other botanical attractions or museums because it will be designed for participatory interaction with guests, not only passive viewing. This learning environment will bring the rainforest, the aquatic world and the natural wonders of the earth to Iowans and visitors of all ages."
Additionally, via the use of web cams and the internet, Oman said it is hoped the Iowa project will link with a handful of other world class facilities, such as the Eden Project, in the United Kingdom, which he visited this summer. Oman also said it is expected the project will open with "pilot school" relationships in each of Iowa's community college districts.
Ray and Oman also revealed that the estimated cost for the facility have been dramatically scaled back by over 20 per cent. All totaled, the project will cost an estimated $225 million dollars, significantly less than the original price tag of $293 million.
"Our challenge was to significantly lower the project's cost while adding content and broadening the overall visitor experience," Oman. "Our new design does just that, and we believe Iowans will appreciate the careful, deliberate planning which will continue," he added.
The project's principal architect, Peter Sollogub of CSP in Boston, MA said the facility will be built to recapture the 30 million gallons of rainwater that fall on the site annually and use it throughout the structure. In addition, all waste will be recycled, and the land surrounding the area will be developed from polluted, industrial ground into natural, living eco-systems.
The project team has mapped out a six-year timeline for procuring private and public funding, additional design, construction and opening of the facility. The target date for opening the environmental attraction is Spring, 2007.
It is estimated the project would bring 1.0 to 1.2 million visitors per year to the Coralville-Iowa City-Cedar Rapids area, with benefits to other regional attractions, such as the Amana Colonies, the Hoover Library, the new IMAX theatre and Science Station and the Czech Village in Cedar Rapids, among others. Board Vice Chairman Oman indicated other benefits would include hundreds of construction jobs, 100-200 permanent jobs, student internships and research opportunities, family events in the rain forest, as well as additional tax revenue and heightened visibility for Johnson County and the State of Iowa.
"Minnesota has 10,000 lakes, the federal government carved Mount Rushmore in South Dakota, and up until now we've lacked the power of a Gateway Arch in St. Louis or the Space Needle in Seattle," Oman emphasized. "This is our opportunity to do something bold, exciting and, yes, even fun. Notwithstanding challenging circumstances, this is a time when we can tell the world we are not afraid of the future. Rather, we can build on and draw attention to Iowa values such as quality education and concern for our natural resources."
Oman also noted that the Iowa Child Institute intends to work with the state's cultural community to integrate art, sculpture, music and story-telling as key elements of the project-similar to what has been done with the newly opened Eden Project, which includes the work of 60 local artists.
As part of Monday's comprehensive review of the project's status and multiple changes, Oman also indicated that the name of the project will change by the end of the year. A newly constituted 20-member Community Advisory Council will work with the Institute's board on a new name for the facility. Oman indicated that local, state and federal government officials have been briefed on the series of changes and that over 30 meetings with citizens and groups of various sizes have been held this summer in Iowa City, Coralville and the surrounding area. "We will continue to listen and learn in an unending effort to further define and enhance this project–to make it relevant and right for this area, and to create something of enduring value for generations to come," Oman concluded.
---
Iowa Child Foundation Unveils Education Design Team
June 8, 2001 – (Coralville, Iowa) The Iowa Child Foundation announces the formation of the Iowa Child Education Design Team. The team is comprised of educational professionals from across the state and around the country who are committed to creating a strong educational curriculum for the Iowa Child project.
The Iowa Child Education Design Team comes to the table with the goal of creating a systematic change in public education in Iowa. The team is dedicated to the advancement of education and learning, and together they will work to create a unique curriculum for the Iowa Child Project. Team members will also work closely with Kindergarten through Grade 12 educators in the Iowa City and Coralville area to build that curriculum and accomplish their goals.
"At its core, this project is centered on learning, from helping Iowa's one-half million kids to learn more about the environment to actually coming up with cutting edge ideas to improve education. This team of top-flight educators will help us to map this out," said David Oman, Vice Chairman of the Iowa CHILD Institute. "We are thrilled that these leaders are coming aboard with their ideas and their enthusiasm for the project. The first step will be to now reach out and involve some K-12 educators from the Iowa City-Coralville area. We're looking forward to the findings and recommendations from our Design Team over the next several months."
Members of the Iowa Child Education Design Team include:
Ms. DeAnna Banks-Beane – Project Director of YOUTH Alive, Association of Science & Technology Centers in Washington, DC
Dr. Christine Cunningham – Center for Engineering Education Outreach in Medford, MA
Dr. Sandra Damico – Dean of Education, University of Iowa College of Education in Iowa City, IA
Ms. Jan Drees – Executive Director of the Business Education Alliance and Principal of Downtown Schools in Des Moines
Dr. Jamie Ferrare – Academic Search Consultation Services in Washington, DC
Dr. Ron Fielder – Director of Grant Wood Area Education Agency in Cedar Rapids, IA
Ms. Jolene Franken – President of Iowa State Education Agency in Des Moines, IA
Dr. Robert Gelina – Director of the Center for Continuous Quality Improvement, Iowa State University, Ames, IA
Dr. Elaine Hampton – Professor of Science Education, University of Texas in El Paso, TX
Dr. Tom Hoerr – Headmaster, New City School in St. Louis, MO
Dr. Eric Jolly – Vice President of the Education Development Center, Inc. in Newton, MA
Dr. Candace Julyan – Arnold Arboretum of Harvard in Jamaica Plain, MA
Dr. Mel Konner – Emory University, Department of Anthropology, Atlanta, GA
Dr. William Lepley – President of Milton Hershey School, Hershey, PA
Dr. Pan Pfitzenmaier – Director of Educational Telecommunications, Iowa Public Television, Johnston, IA
Dr. Ted Stillwell – Director, Iowa Department of Education, Des Moines, IA
Dr. Tom Switzer – Dean of Education, University of Northern Iowa College of Education, Cedar Falls, IA
Dr. Paula Vincent – Associate Superintendent, Cedar Rapids Public Schools, Cedar Rapids, IA
Chris Rohert, Staff Development Facilitator and ELP teacher, Iowa City Community School District
Craig Okerberg, Superintendent, Clear Creek Amana Schools
The Iowa Child Educational Design Team will use the Iowa Child facility as the basis for delivering their curriculum to the nation, and it will provide an opportunity for educators and students to learn in an unequaled way in a unique atmosphere. A nearly half-million dollar grant given to the Iowa Child Foundation by the United States Department of Education this week will fund the work of the Iowa Child Educational Design Team.
The Iowa Child Institute is a non-profit development group established to further the goals of the Iowa Child Project. The Board of the Iowa Child Institute includes 18 prominent Iowa business, civic and educational leaders. The immediate priority for the Iowa Child Institute Board will be to provide vision, leadership and direction for the continued development of the Iowa Child project.
Past articles are available in the News Archive.
---
Home >|Overview >|FAQ >|News >
Reading >|Contact >
---