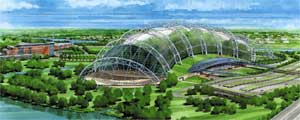 Iowa Child Project Overview
Educational Concept
A vision for our future
With the goal to create a major, educationally enriching attraction, the Iowa Child Institute envisions the creation of the world's largest environmentally-oriented learning center. At its heart, the Iowa Child project is about learning. By using a number of natural environments, the project will become a learning laboratory for visitors, students, researchers and teachers. It will not be like any other botanical attraction or museum because it will be designed for "participatory" interaction, not passive viewing. This learning environment will bring the rainforest, the aquatic world and the natural wonders of the earth to anyone within its walls.
What will guide the development of this learning environment?
The Educational Design Team members of this project have outlined an "operating philosophy" which will guide the continued development of the educational core of the project. This philosophy incorporates the values that will build our learning environment. This operating philosophy includes:
Make every aspect of the project "learner centered" with teachers, trainers, staff and volunteers assisting in the visitor and student learning.
Ensure that we provide a "safe" environment, not just physically, but emotionally . Encourage all participants to be innovative and take risks to enhance learning.
Promote an environment where everyone is equal, teacher, student, visitor and staff.
Explore all ideas and consider all approaches. Adopt a "worth trying" approach.
Be flexible in developing programming.
Figure out ways to help students and visitors apply what they learn at the facility to their daily lives.
Create meaningful partnerships between teacher, student, researcher and the communities.
Become a beacon to illuminate new thinking on teaching and provide leadership in this regard.
Programming should adopt a "Let me see, let me touch and let me do" attitude towards learning.
Given the environmental and life science focus of the rainforest and related experiences of the project, the Educational Design Team concluded that interdisciplinary content, focusing on Science, Technology and Society (STS)would provide our most effective learning platform.
The interdisciplinary possibilities of STS include:
Using the facility to demonstrate new classroom techniques and curriculum.
A holistic educational experience from the humanities to sciences.
Focus on sustainability and systems approach to thinking.
A considered approach to the full utilization of the "living laboratory" provided by the facility.
Creating a bridge to considering the local environment and society.
---
Home >|Overview >|FAQ >|News >
Reading >|Contact >
---